Massachusetts Residential Real Estate Attorneys
Put 30+ Years of Experience on Your Side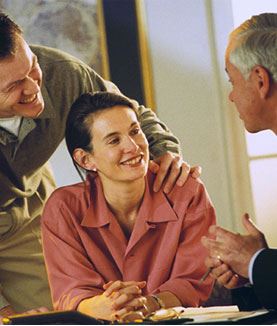 The purchase or sale of a single family home or multifamily home is likely to be one of the biggest transactions you ever make. Skilled legal counsel can go a long way to ensuring that this transaction runs smoothly.
Buyers, sellers and banks throughout Massachusetts have relied on the highly experienced real estate attorneys at Percy Law Group, PC for three decades.
Our law firm takes on the full range of residential real estate issues. Much of our work in this field involves representing clients in transactions involving distressed real estate, including short sales and bank owned properties.
Our firm is one of the leaders in this field, closing hundreds of short sales and bank owned property transactions annually. Our firm's founder, Thomas Percy, frequently presents seminars on how to conduct short sales and bank owned property transactions.
In short, we have a detailed understanding of the legal issues that can potentially impact your transaction, and will work tirelessly to achieve your goals. We stay focused on your case, your needs and your results. That is our promise to you.
Learn more about how our Massachusetts residential real estate attorneys can help. Call (508) 206-9900 or contact us online today!
Comprehensive Cost-Effective Real Estate Services in Massachusetts
Whatever situation you face, our Taunton purchase and sale agreements attorneys can provide a comprehensive review of your options, advise you on the best course of action, and create the documentation needed to protect your interests and pursue those options in a determined, result-focused manner.
We are aware that you work hard for your money so we make every effort to find ways to reduce your transaction costs while achieving the best possible result for you. Since 1987, our residential real estate attorneys have represented and advised clients in the following matters:
Tenacious, Dynamic Litigators in Real Estate Disputes
Whether you are engaged in litigation or a transaction, our lawyers will work to make your case as stress-free as possible. We provide you with the personalized attention you require. We are here for you and will take the time to explain what you are facing throughout each step of the process as we work together toward achieving your desired result.
When disputes arise and litigation is imminent, our law firm can guide you through the legal process. We handle all types of real estate-related disputes, including:
Options to buy
Adverse possession
Property line disputes
Zoning, land use, variances and permitting
Petitions to partition
Rentals and leasing
Get Started with a Consultation Today
Looking for a real estate lawyer near you? With main offices in Taunton, we serve clients throughout Massachusetts. We have staff members who speak Spanish and Portuguese.
Call toll free at (508) 206-9900 or complete our contact form to schedule your initial consultation.
OUR LEGAL TEAM

OUR REPUTATION