Massachusetts Estate Planning & Elder Lawyers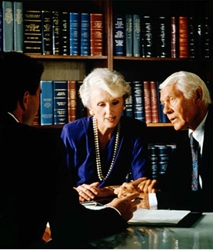 You have worked hard for the money you have earned and the assets you own. These assets can be threatened, however, by the costs of health care, state and federal taxes, and even creditors.
It is always a good time to implement strategies to protect these assets upon your death or incapacity. An experienced lawyer can be instrumental in creating an effective plan that will protect you and contain provisions ensuring your final instructions are respected.
Percy Law Group, PC, can efficiently and effectively craft your estate plan.
Devising Appropriate Asset Protection Strategies for Taunton Families
Our attorneys and staff take on the full range of issues in estate planning, including:
Elder law: Our elder law attorneys assist clients in the full range of elder law issues, including asset protection, long-term care and Medicaid planning, and estate planning. We will develop plans that protect your assets to the fullest extent under the law. Early planning is the key to preserving your eligibility for Medicaid while preserving your assets.
Wills: We're prepared to draft both simple and complex wills that allow for the orderly transfer of your assets upon death.
Trusts: Trusts are versatile, flexible legal instruments that offer a number of advantages in estate planning. Our lawyers will review your assets and your goals to determine what types of trusts best meet your needs.
Health care proxies: Health care proxies, or HCPs, give someone the authority to make decisions about your health care in the event you become incapacitated. An HCP can create order and stability during a difficult time.
Durable power of attorneys: The durable power of attorney, or DPOA, gives someone the ability to make financial decisions on your behalf if you are unable to do so. Our lawyers will help you determine a strong candidate to hold the DPOA. We will then implement your decisions by drafting the appropriate document.
Complex estate planning: At Percy Law Group, PC, we are ready to address even the most complex types of estate planning goals. We can address business succession planning, special needs planning and other unique interests.
Competency and legal capacity: Our lawyers have significant experience representing clients engaged in disputes over the competency or legal capacity of an individual.
Probate of estates: Our law firm has the skill and experience to effectively guide your family through the probate process.
Achieving Cost-Effective Solutions: Let Our Experience Work for You.
Although our main office is located in Taunton, our law firm has numerous offices in Eastern Massachusetts. Our lawyers can provide a comprehensive review of your options, advise you on the best course of action, and as appropriate efficiently and effectively craft the documentation needed to accurately protect your interests. Contact us online or call us toll free at (508) 206-9900 to schedule an initial consultation. We have staff members who speak Spanish and Portuguese.
OUR LEGAL TEAM

OUR REPUTATION